Shortstop, abbreviated SS, is the baseball or softball fielding position between second and third base. Shortstop is often regarded as the most dynamic defensive position in baseball, because there are more right-handed hitters in baseball than left-handed hitters, and most hitters have a tendency to pull the ball slightly, so more balls go to the shortstop than any other position. In the numbering system used to record defensive plays, the shortstop is assigned the number 6.[1]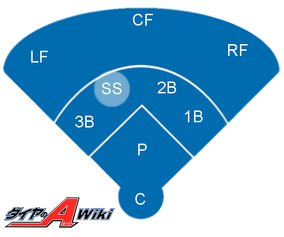 References
Edit
Ad blocker interference detected!
Wikia is a free-to-use site that makes money from advertising. We have a modified experience for viewers using ad blockers

Wikia is not accessible if you've made further modifications. Remove the custom ad blocker rule(s) and the page will load as expected.