Welcome
This wikia stands as an comprehensive encyclopedia for everything related to Diamond no Ace. We currently have 12,662 edits to 275 articles and 1,112 images on this wikia. We would appreciate your help by contribute by editing or adding articles.




Please note that this site contains heavy Spoilers regarding the series Diamond no Ace.
Kataoka Tesshin
- also called "General" by
Sawamura
, is the coach of the
Seidou High School Baseball Team
. He is an alumnus of the school and has played as a pitcher in the past. Kataoka is known as a strict coach, but he never forgets to praise his players and say reassuring things to them from time to time. He spares no effort - if he wants his players to make a significant step forward, he himself takes part in training.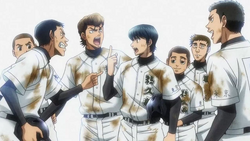 Ugumori High School
is a school located in Adachi, a ward in East Tokyo. It is a strong school that was in the best 16 of the East Tokyo Summer Qualifer. They defeated
Inashiro Industrial
in the second round of the Fall Tournament, but lost to
Seidou High
in the third round.
Why do you read | watch Daiya no A? What is the main appealing factor?