Welcome
This wikia stands as an comprehensive encyclopedia for everything related to Diamond no Ace. We currently have 13,881 edits to 296 articles and 1,220 images on this wikia. We would appreciate your help by contribute by editing or adding articles.




Please note that this site contains heavy Spoilers regarding the series Diamond no Ace.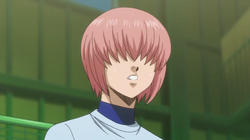 Despite his small stature and frail appearance
Haruichi Kominato
has pinpoint precision while batting the ball, able to hit it as wide and as far as he pleases, and control where the ball lands. He also is extremely talented at defense. He has a habit of saying things bluntly and often praises either
Furuya
or
Eijun
, causing them to compete against each other frequently. He is easily embarrassed, especially when praised.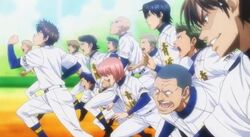 "Learn today. Devote every moment."
Seidou High is a high school located in Kokubunji, a city in West Tokyo. It has a strong baseball team led by Coach Kataoka Tesshin. However, they have not successfully advanced to the Nationals for six years. They were beaten by Inashiro Industrial in the preliminary finals during the summer tournament.

Why do you read | watch Daiya no A? What is the main appealing factor?